Here you are, sitting on a wide stony bench, the concrete of the path feeling warm under your bare feet, the wind playing gently with your hair, the brilliant rays of May caressing your left cheek.  Your eyes are facing the garden adorned with vibrant petals and soft greens of mid-spring, encouraging your mind to fly away towards a place of romance and excitement: only a few weeks from today the sound of the soft breeze will be replaced by the buzz of the scrapping chairs, the gay song of the hummingbirds will leave the spotlight to the orchestra you booked three months in advance and a white ethereal gown will replace the floral cotton dress you're currently wearing. Only a few weeks from today you will walk down the aisle, each step closer to your soul mate, getting lost in his eyes deeper and deeper until you get lost in his heart, forever locked onto yours. A dress to whisper to your groom how deep are your feelings for him, a dress to make you see in his smile an eternity of togetherness, that's all you still need in order to live your well-planned fairytale.
Knowing that each bride is special and aiming to make your search for the perfect wedding dress an experience to cherish forever, COCOMELODY  brings you a large selection of designer wedding dresses featuring exotic fabrics imported worldwide, creating dresses that are nothing but glamorous.
The brand's story began more than 15 years ago, when the founder, Miranda, a freelance writer and traveler, made friends with people working in the wedding industry who shared her interests for art and beauty. Working together with them, she understood the struggle of finding a dream wedding dress to a bride with a tight budget.
The 2016 wedding dresses collection signed COCOMELODY is an ode to romanticism: florals, dramatic lengths, draping, delicate lace, all of the aforementioned offering you a fit-for royalty moment on your Big Day.
If you're set to make a show-stopping appearance as you walk down the aisle, check out the COCOMELODY selection of breathtaking short wedding dresses that will help you steal the spotlight in an on-trend, elegant way – you have plenty of different styles to choose from: lace-covered, dramatic V-backs or feminine tulle, set to offer you the glamorous entrance you deserve.
Offering as a gift up to 70% discount to a wide range of wedding dresses, you might want to buy the perfect dress even if your wedding is scheduled months away.
The COCOMELODY team does its best to make sure you have a fun and safe experience while shopping with them. While offering the ease of shipping online, COCOMELODY has physical stores in USA and Europe for the customers to view their most popular styles in person, try on samples for sizing and get measured for the perfect fit.
DESIGNER WEDDING DRESSES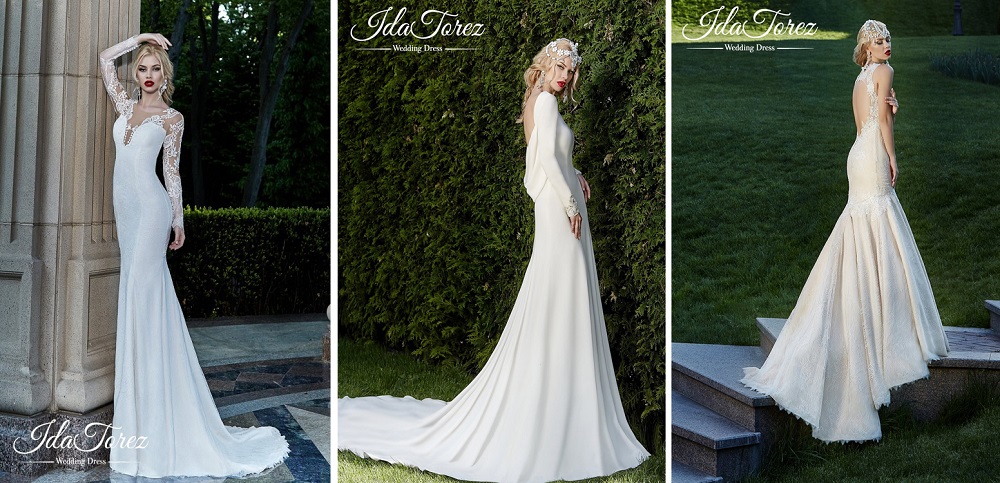 IDA TOREZ, Romantic Trumpet-Mermaid V-Neck Wedding Dress/ IDA TOREZ, Pretty Sheath-Column Bateau Natural Court Train Stretch Crepe Ivory Long Sleeve Open Back Wedding Dress/ IDA TOREZ, Stylish Trumpet-Mermaid Scoop Dropped Court Train Lace Ivory/Coffee Sleeveless Open Back Wedding Dress
SHORT WEDDING DRESSES
COCOMELODY, A-Line Illusion Natural Knee Length Tulle Ivory Sleeveless Zipper Wedding Dress with Beading and Appliques/ COCOMELODY, Modest A-Line Sweetheart Natural Tea Length Lace Ivory Sleeveless Zipper Wedding Dress with Beading and Jacket-Bolero / COCOMELODY, Timeless A-Line Illusion Natural Knee Length Tulle Lavender Sleeveless Zipper Wedding Dress with Beading and Appliques
DISCOUNT WEDDING DRESSES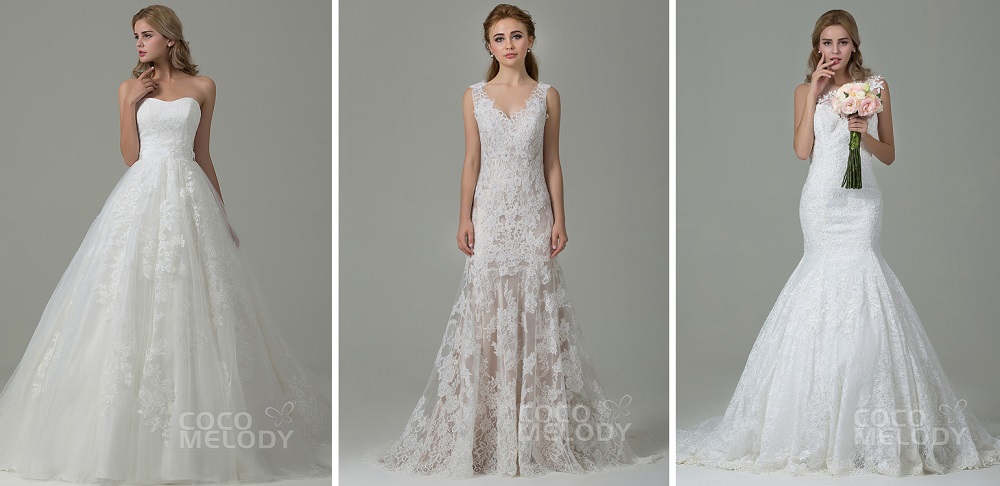 COCOMELODY, Charming A-Line Sweetheart Natural Train Tulle Ivory Sleeveless Lace Up-Corset Wedding Dress with Appliques/ COCOMELODY, Fabulous Sheath-Column V-Neck Natural Train Lace Ivory/Champagne Sleeveless Open Back Wedding Dress/ COCOMELODY, Pretty Trumpet-Mermaid Illusion Dropped Court Train Lace Sleeveless Side Zipper Wedding Dress with Appliques