Live piano music, salmon canapés, the mixed sound of the scrapping chairs and applause the moment you and your groom step inside the exquisite ballroom you booked eight months in advance – the walls covered with a shimmering gold paper, each of the tables holding a delicate bouquet of red baby roses, a crystal candelabra elegantly lighting up the room. You've planned it all – as time goes by and your Big Day approaches every single detail states you're to have the wedding of your dreams. Still, there's one more essential thing you have to take care of in order to take the event to the next level: your wedding dress – a dress fit for modern-day royalty, a dress to exceed your dreams and expectations, a dress to make your groom see the eternity of togetherness the moment you step down the aisle. Delicate embroidery, appliqués, a dramatic back – knowing exactly what you want, it seems like the task is already solved. Still, a month before the event, the clock doesn't seem to tick in your favor – looks like the search for the perfect dress just hit a dead end.
Knowing that brides should look exquisite on their wedding day and aiming to make your search for the perfect dress a memorable journey, COCOMELODY offers you a large selection of wedding dresses featuring delicate fabrics imported worldwide, such as unique lace from France, silky satin from China and fabrics rich in details from Italy, creating dresses that are nothing but glamorous.
The story of the brand started more than 15 years ago, when the founder, Miranda, a freelance writer and traveler, decided to start her own bridal company, providing brides the couture gowns of their dreams at fair prices.
The COCOMELODY wedding dresses collection is an epitome of romanticism: floral appliques, delicate lace details, low back wedding dresses all of them ready to help you make a style statement on your Big Day.
If you're set to make a fit-for-royalty entrance, go for a breathtaking backless gown that will help you steal the spotlight in a natural, elegant way – you have plenty of different styles to choose from: lace-covered, dramatic V-backs or feminine tulle, set to offer you the glamorous entrance you deserve.
Offering as a gift up to 70% discount to a wide range of their wedding dresses, you might want to take advantage and buy the perfect dress even if your wedding is scheduled months away. If you want to tie the knot in the month of love, COCOMELODY is giving you a $25 off wedding dresses $200 +. Looks like the timing is perfect, right?

The COCOMELODY team does its best to make sure you have a fun and safe experience while shopping with them. While offering the ease of shipping online, COCOMELODY has physical stores in USA and Europe for the customers to view their most popular styles in person, try on samples for sizing and get measured for the perfect fit. Seems like finding the perfect gown has never been easier.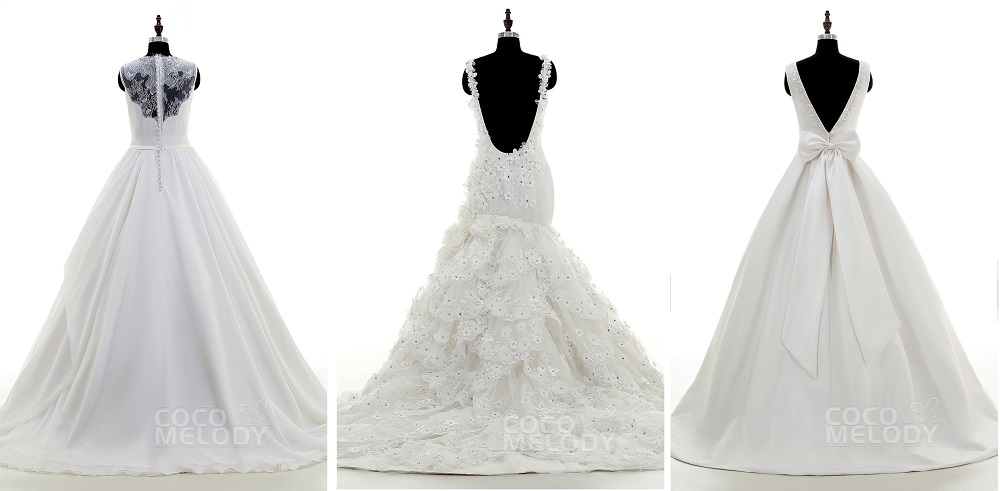 COCOMELODY, Classic Illusion Train Chiffon Ivory Sleeveless Wedding Dress with Sashes LWXT14092/ COCOMELODY, Trumpet-Mermaid Straps Dropped Chapel Train Tulle Ivory Sleeveless Open Back Wedding Dress Flower LD3847 / COCOMELODY, Hot Sale Bateau Train Satin Ivory Sleeveless Wedding Dress with Bowknot and Sequins LWAT1503B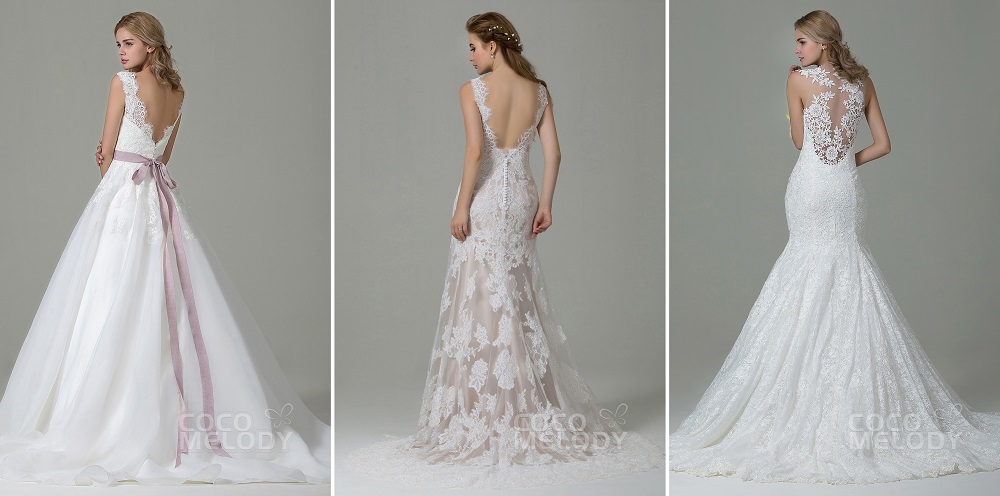 COCOMELODY, Classic A-Line V-Neck Natural Train Organza Satin Ivory Sleeveless Open Back Wedding Dress with Appliques and Ribbons CWZT15007/ COCOMELODY, Pretty Trumpet-Mermaid Illusion Dropped Sweep-Brush Train Lace Sleeveless Side Zipper Wedding Dress with Appliques LWST14009